HOW AUTOMATIC PAYMENTS WORK!
The Ontario Homeopathic Medical Association is now offering Monthly Automatic Subscriptions as well as Professional Annual Subscriptions – your choice. Monthly payments have been introduced for ease of cash flow and convenience of all its members during this difficult time. Monthly AutoPay is a convenient option in which bills will be paid automatically each month on their due dates using your choice of credit or debit card, or your PayPal account. (Just like your Netflix payments for example.) It means that you only have to sign up once and it is all looked after until cancelled. You can cancel or change the type of membership at any time! Annual payments will still be accepted and will automatically renew at the end of your membership year, or can be cancelled a that time.
If you are renewing your membership, please read instructions below. If you wish to renew your membership but your current membership has expired, you will still be able to login to reach the Membership RENEWAL page. If you do not remember your password, or have never logged in before, choose Forgot Password on the login screen. An email will be sent to you for a password reset. Finish your login and then continue with membership sign up, and payment.
BOTH ACTIVE AN EXPIRED MEMBERS WISHING TO RENEW SHOULD LOG IN FIRST
(EXPIRED MEMBERS WILL ONLY HAVE ACCESS TO THE RENEWAL PAGE, NOTHING ELSE)
ONCE LOGGED IN, GO INTO MEMBERSHIP RENEWAL ON THE NAVIGATION BAR AND PROCEED AS FOLLOWS:
DETAILS ON HOW PAYMENT SYSTEM WORKS FOR BOTH RENEWING AND NEW MEMBERS:
When you click on your chosen payment button i.e.

You will get the Member Sign Up Form to fill out (anything with an asterisk * means that this field cannot be left blank and must be filled in). This form will also allow you to set your own password for login into the OHMA.info website. This is what the form looks like:
If you are a renewing member, the form will be partially completed already, just fill in the rest of the information needed.
When the form has been submitted, for monthly payments, you will then automatically be taken to the page directly below where you can chose to pay with your credit card or through your own PayPal account. Click on subscribe if you do not have, or wish to have, your own PayPal account.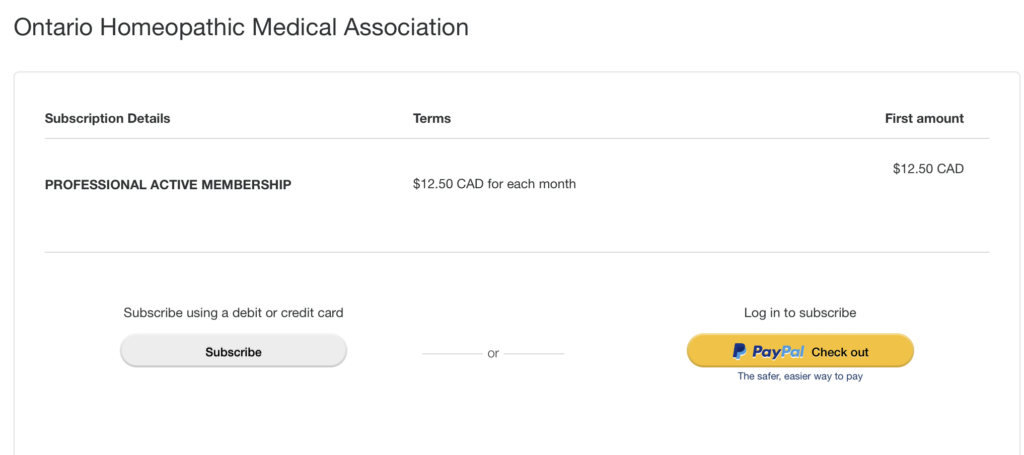 After clicking on the Subscribe button, you will be automatically taken to the Payment Form. Annual payments will offer you the ability to pay through PayPal or (look beneath) and you will see a Credit Card and Debit option. Clicking on the Credit Card option will take you directly to the credit card payment form. Ensure the that the first field is showing Canada, if not click on the arrow and choose Canada from the dropdown list. Then enter all your credit card details as requested, followed by your other information. Here is an example of the form you will be asked to complete: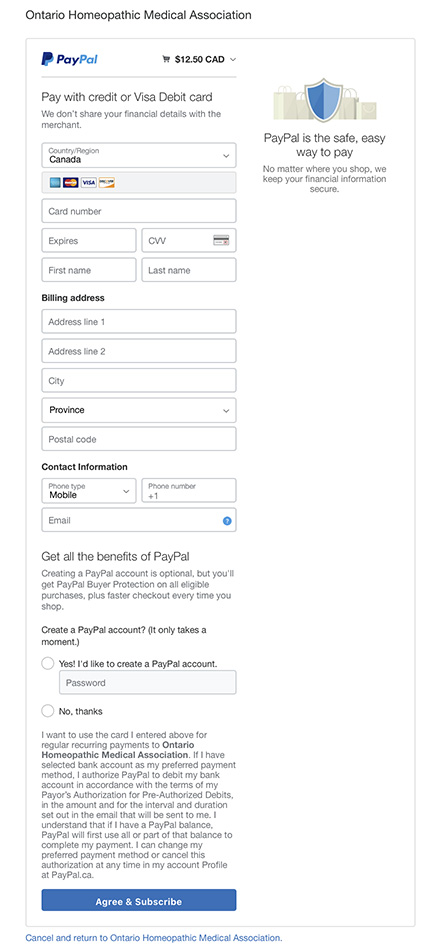 Before you can submit the form, please click on the radio button "No Thanks", and submit by clicking on the "Agree & Subscribe" button.
ADDED SECURITY
Our website is now a secured https: website which means it is encrypted and in addition we do not actually take these automatic payments via our website but they are taken through PayPal (even the credit or debit card payments go through PayPal). PayPal then deposits these monthly or annual amounts directly into our OHMA PayPal account. So in other words your username and logins and credit card info is all very well secured as PayPal has the highest level of internet security.