CHAIRPERSON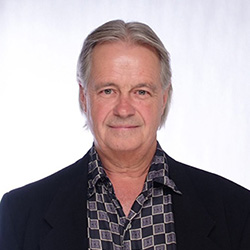 Dennis Chadbourne
BIO:
Dennis John Chadbourne grew up in North Bay, moving to Kitchener at the age of 19 to go to school, eventually settling in Mississauga to raise his family. In addition to holding positions in advertising, marketing and insurance, Dennis also held the role of being a stay-at-home dad to his son and daughter for eight years.
Dennis had been treated through homeopathy for several severe ailments, and his significantly-improved health (having suffered from severe asthma, bronchitis and pneumonia), became the pivotal factor in his decision to study homeopathy and pursue it as a career.
After his graduation from the Ontario College of Homeopathic Medicine in 2006, Dennis began his own practice in Toronto. For the past six years he has had a virtual and a mobile practice with patients across Canada, specializing in aged care with a focus on independent living. His desire to give back to the profession which restored his own health led him to join the board of directors of the OHMA in 2007.
For the past 10 years Dennis has also been a part of the founding directorship of the Canadian Homeopathic Conference. The CH Conference's goal is to bring together members of homeopathic communities in Ontario and across Canada.