DIRECTOR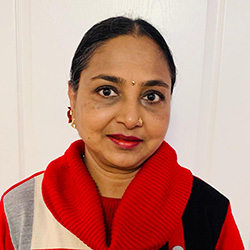 Meera Natt
BIO
Meera Natt is a registered Homeopath with CHO (reg# 15130) and a member of OHMA, who has been practising in Brampton for the last 11 years.
Inspired at an early age by her father's great success in the practice of homeopathy, Meera decided to pursue the field as a career. She began practising in India in 1991 until her family immigrated to Canada in 2005. In addition to completing additional homeopathy-related courses, Meera did her post-graduation degree in cardiology in 2016.
As a continuous learner, both in her own field as well as in medical science in general, Meera enjoys reading about new innovations and attending webinars on a wide range of topics. She has derived immense pleasure and satisfaction from the treatment of hundreds of people who have sought her help over the years, and has seen many wonderful results in her practice.
Meera looks forward to supporting the goals of the Ontario Homeopathic Medical Association to the best of her abilities.